Course details
【2H drinking and attaching】 ◆ Wakayama product sushimi pig ◆ "Shoini special golden pot course" Special dish made from lightly tasted ♪ 4500 yen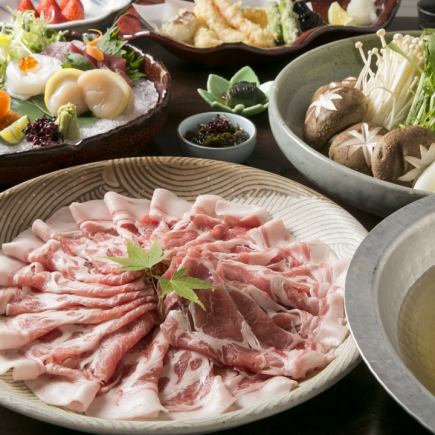 By using a coupon4500 yen
One person / tax included
All-you-can-drink available

120 minute system (30 minutes before LO) ※ Change to premium all-you-can-eat at + 500 yen OK! You can choose Asahi Super Dry · Extra Cold, Several Sake, Akei Fruit Liquor etc!
Reservation deadline

Until 23 o'clock the day before the store visit date
Available days for reservation

Monday - Sunday - Public holidays - Holidays
It is a course that you can fully enjoy the golden pot using "sushimi pig" raised in the natural abundant forests of the Kii Mountain Range.Recommended for banquets and girls' associations.It is a special pot that you want to eat regardless of the season with a light taste.
Course menu
【Example of dishes】 ※ The contents change according to season and arrival
■ First stroke (2 types)
■ Today's Sake Assortment (3 types)
■ Shoie Yaki (Charcoal grilled chicken too)
■ Sushimi pig's golden pot
■ Ramen noodles in a pot
All-you-can-drink menu
·beer
·draft beer
·Sake
· Cold · 燗
· Chu-hi
· Plain · Lemon · Lime · Big Peak · Peach · Blue Apples · Mango · Shikuwa - Sir
·Plum wine
· Rock · Water · Soda Discount
· Shochu
· Wheat · potato (rock · water · soda)
· Awamori
· Rock · Water · Soda Discount
·whiskey
· Rock · Water · Soda Discount
·Cocktail
· Cassis Orange · Cassis Oolong · Cassis Soda · Screwdriver · Moscommeure · Vodka Tonic · Fuzzy Neeble · Peach Oolong · Gin Buck · Orange Blossom · Gin Tonic
·wine
·Red and white
·Soft drink
· Oolong tea · Coke · Gingera · Orange juice · Grapefruit juice
· ☆ Premium all you can drink beer ☆ Beer
· Draft beer · Asahi Super Dry · Extra Cold
· ☆ Premium all you can drink ☆ Sake
· Masamune Kiku · Tunnel sake · Sacred · Saddy Cold Sake
· ☆ All-you-can-drink premium ☆ Chewi
· Plain · Lemon · Lime · Big Peak · Peach · Blue apple · Mango · Sekkuwa - Sir · Nagase (Mikan · Mango · La France · Ringo · Lychee)
· ☆ All you can drink premium ☆ Plum wine
· Plain plum wine, ripe plum wine (rock · water · soda)
· ☆ Premium all you can drink ☆ Shochu
· 【Potato】 Black Kirishima · 【Wheat】 Nikaido (Rock · Water · Soda) · Waketoshira original wheat · sweet potato
· ☆ Premium all you can drink ☆ Awamori
· Rock · Water · Soda Discount
· ☆ All-you-can-drink premium ☆ Whiskey
· Suntory angle · Black Nikka (rock · water · soda)
· ☆ Premium all you can drink ☆ cocktail
· Cassis Orange · Cassis Oolong · Cassis Soda · Screwdriver · Moscommeure · Vodka Tonic · Fuzzy Neeble · Peach Oolong · Jinbac · Orange Blossom · Gin Tonic · Red Eye · Fuzzy Neeble · Peach Oolong · Salty Dog
· ☆ Premium all you can drink ☆ Wine
·Red and white
· ☆ premium all you can drink ☆ soft drink
· Oolong tea · Coke · Gingera · Orange juice · Grapefruit juice · Calpis · Calpis soda
Coupons that can be used with this course
2018/12/27 update